PE-Xa PIPE
We manufacture PE-Xa pipes with or without EVOH oxygen barrier (3 and 5 layers) according to the European regulation EN 1264-4 by adding a ethyl-vinyl alcohol copolymer layer that prevents the permeability of the tube to oxygen diffusion, eliminating the problem of oxygen supply to the water flow and corrosion in the metal elements of the installation extending its lifetime.
Achieving an average 75% of crosslinking degree during the manufacturing process (higher degree does not mean better product), our technology does not need further treatments and is the only process that guarantees an excellent crosslinking uniformity along the pipe (maximum difference of 0.5%) providing major traction and pressure resistance, better stability under extreme temperature conditions, more flexibility and chemical resistance to solvents, oils and water without incrustations, corrosion or aging.
Our PEX-a crosslinked polyethylene pipe is manufactured using the Organic Peroxide method, having as a result the highest quality PEX pipes on the market and being Certified by the main European Institutes (AENOR, SKZ, CSTB, IIP) complying with the UNE-EN ISO 15875 European regulations and ISO 9001.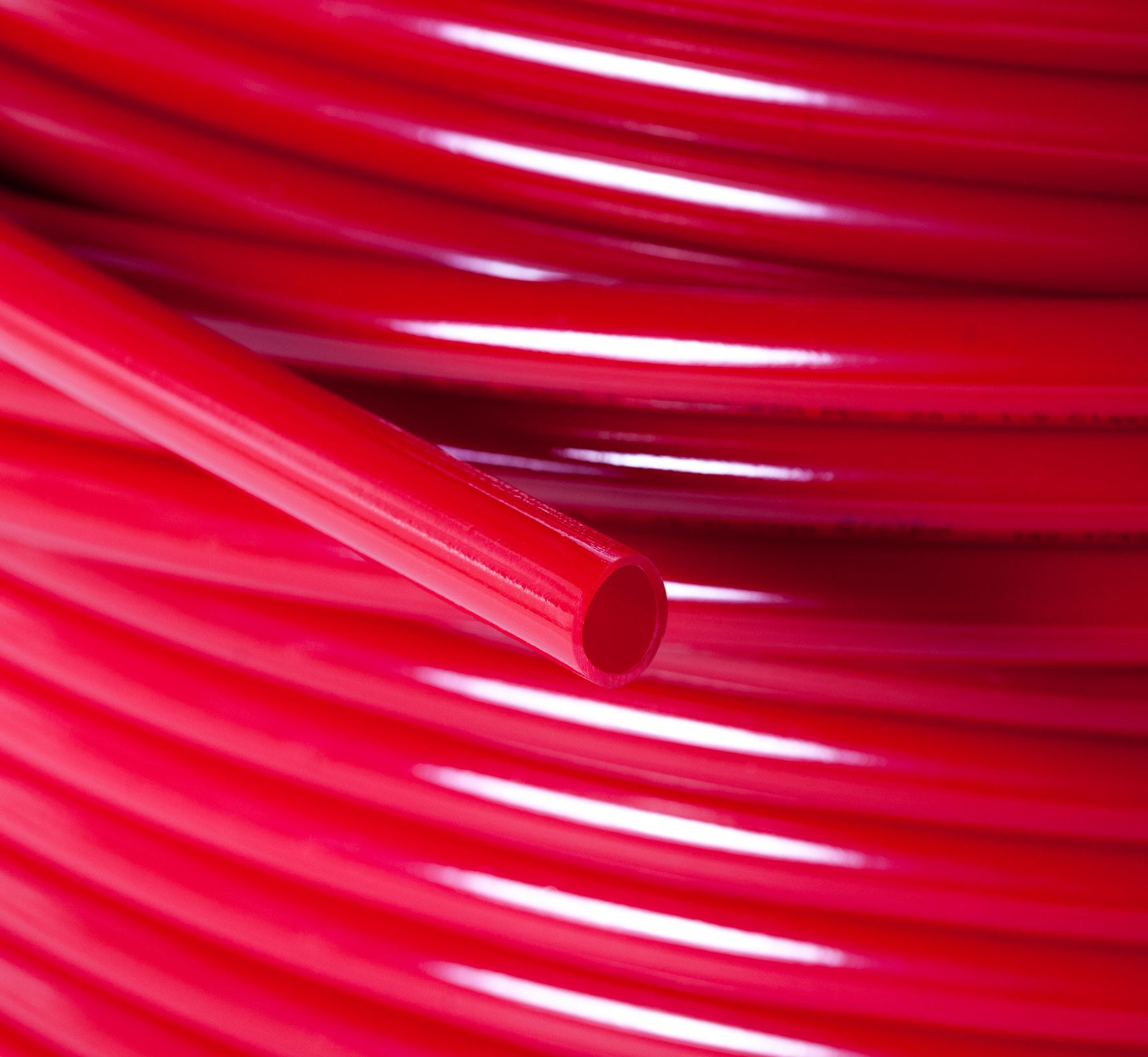 Advantages:
Easy Installation
No welding or mechanization required as the fittings system gives
simplicity and optimizes the costs.
Flexibility
Higher flexibility than other PEX pipes. Can be easily bent and curved in
cold without special tooling, saving unions and installation time.
Temperature resistance
Allowing temperatures up to 95°C and even 110°C for short periods.
Pressure resistance
The high crosslinking degree provides more than 50 years lifetime
durability.
Resistant to corrosion
Suitable for corrosive fluids transportation.
Minimal pressure losses
Much lower roughness than metallic pipes reducing energetic consumption
and allowing a higher flow with the same internal pipe diameter.
No deposits
Layers very resistant to calcium, dirt and substances derived from
galvanic corrosion.
Lightness
It weights 7 times less than copper and 13 times less than iron on
equivalent diameters.
Excellent sanitary conditions
It does not modify the organoleptic characteristics of drinking water and
the corrosion absence avoid proliferation of bacteria.
Thermal, Electrical and Noise Insulator
Providing energy savings by reducing heat losses.
Frost resistance
It prevents condensation, reducing the freezing process.
Suitable for seismic zones
Because of its elasticity can absorb higher stress than metal pipes.
Thermal memory
Recovering the original shape when hot air is applied allowing to be
repaired.
Applications
Plumbing installations.
Underfloor heating systems
Radiator heating installations
Air conditioning installations
Industrial installations (compressed air system, transport of toxic or
corrosive fluids …)
Ice/snow melting systems for public buildings or particulars
Livestock facilities
PERT-AL-PERT
Mutilayer pipe
Our PERT-AI-PERT Multilayer pipe is composed by 5 layers using the butt welded system to deliver the highest quality and it is Certified by the most prestigious European Institutes (SKZ, AENOR) complying with the UNE-EN ISO 21003 European regulations and ISO 9001.
The combination of PE-RT and Aluminum provides excellent properties, obtaining the advantages of both materials:  Plastic (flexibility, corrosion, low thermal conductivity) and Metal (low linear expansion, pressure, and temperature resistance) eliminating disadvantages.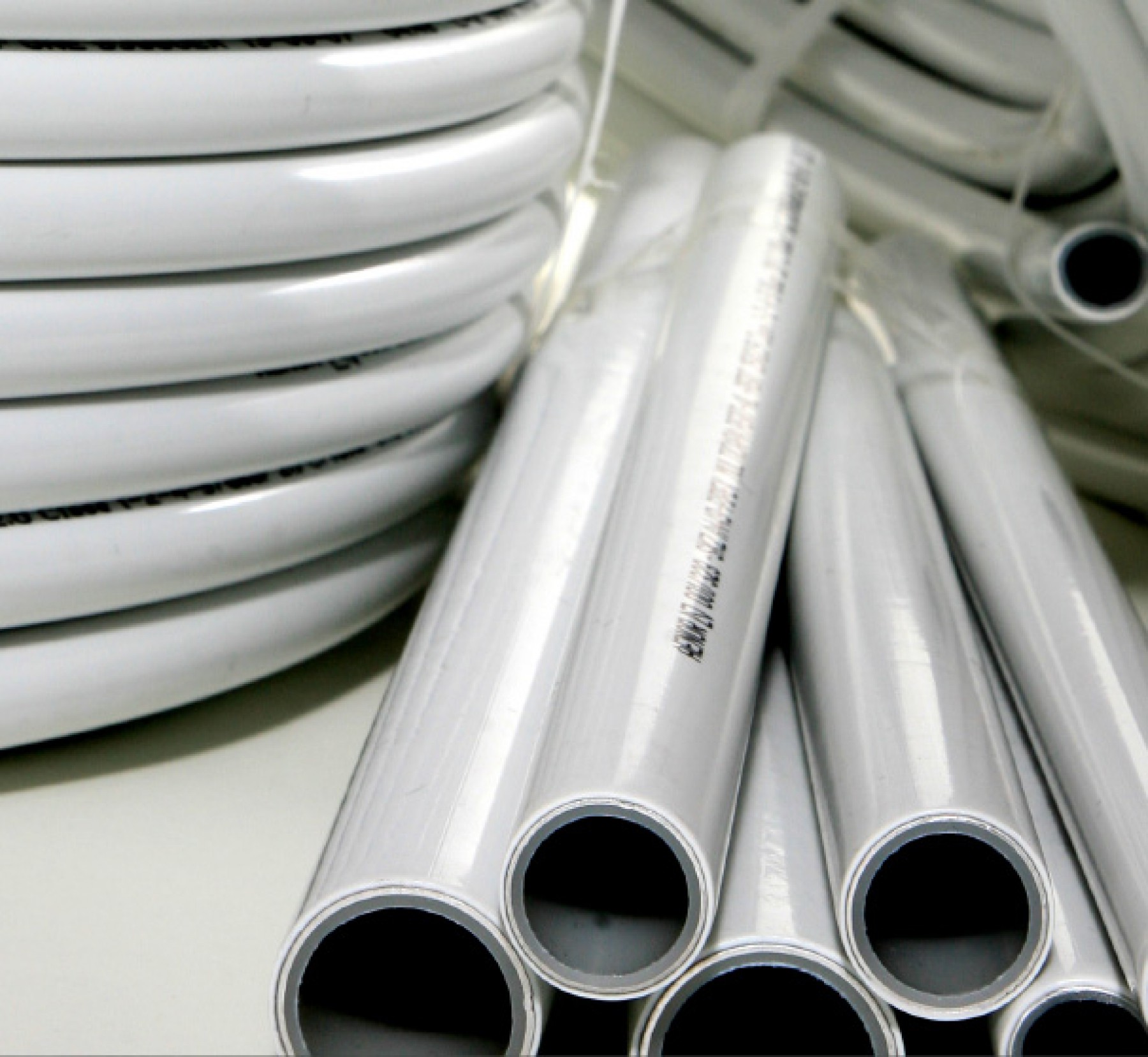 Layers
PE-RT inner layer
Polyethylene with high temperature resistance, according to the regulation
UNE-EN ISO 21003.
Adhesive layer
Specially designed to paste plastic with metal, with a melting point
higher than 120ºC.
Special butt welded Aluminum alloy designed for pressurized water pipes
Perfect pipe symmetry for Fitting adjustment and major mechanical uniform
resistance to water pressure and bending stress (the welded point is the
strongest point of the aluminium layer).
PE-RT outer layer
Polyethylene with high temperature resistance, according to the standard
UNE-EN ISO 21003
Corrugated pre-sleeved pipe
(Simple & DUO pipe in pipe)
We manufacture Simple & DUO Corrugated pre-sleeved pipes with multiple diameters according to CSTB standards. The Corrugated protects with a minimal resistance compression of 450N the PE-Xa and Multilayer PERT-Al-PERT pipe installations, allowing a fast and easy replacement on buried installations and differenciating hot and cold pipes.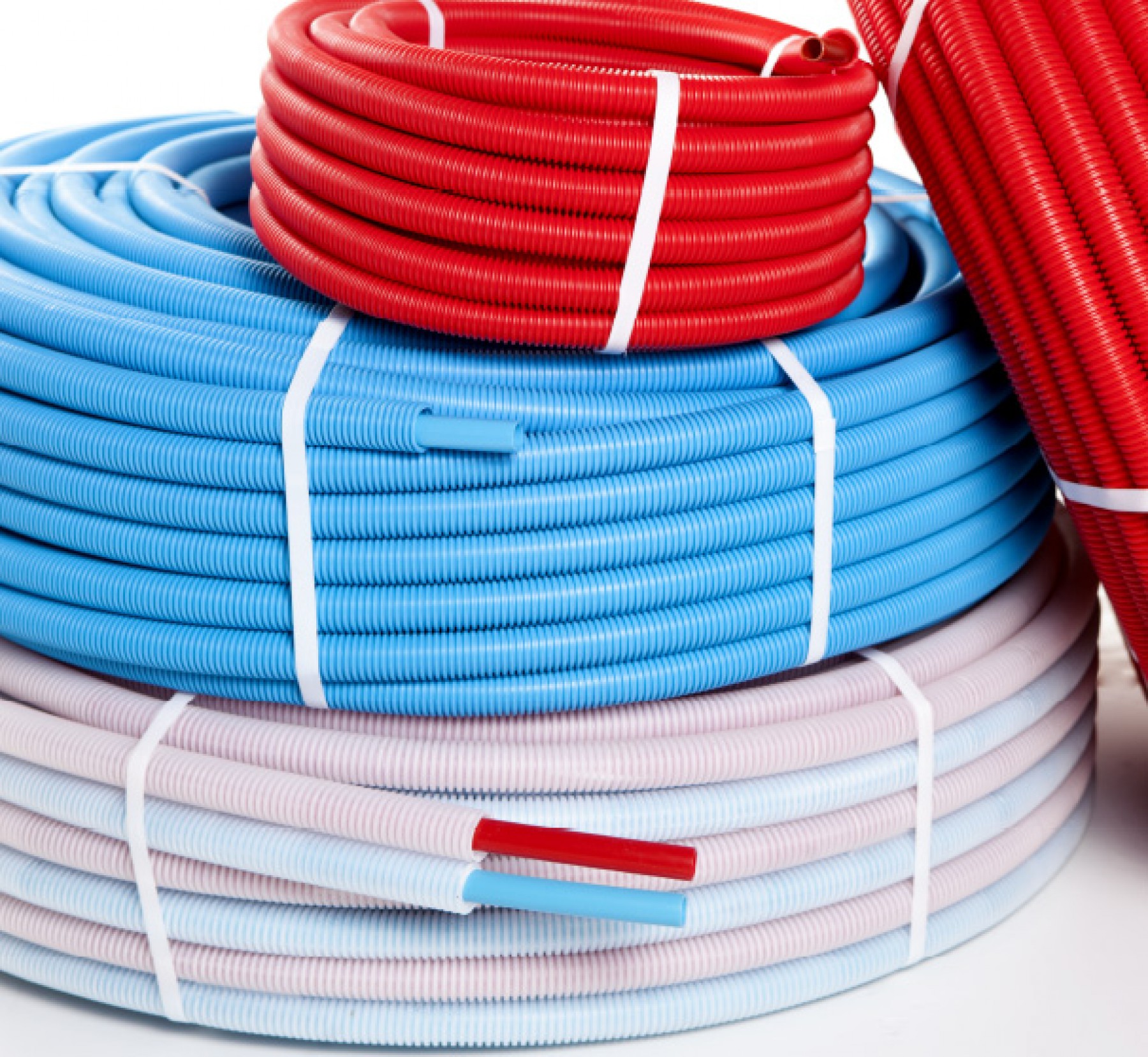 | Pipe characteristics | Value | Standard |
| --- | --- | --- |
| Density (23 °C) | 900 kg/m3 | ISO 1183 |
| Melt Flow Rate (230 °C/2,16 kg) | 1,3 g/10min | ISO 1133 |
| Melt Flow Rate (190 °C/5 kg) | 2,5 g/10min | ISO 1133 |
| Tensile Modulus | 1.300 MPa | ISO 527 |
| Tensile Strain at Yield (50 mm/min) | 8% | ISO 527 |
| Tensile Stress at Yield (50 mm/min) | 28 MPa | ISO 527 |
| Charpy Impact Strength, notched (23 °C) | 25 kJ/m² | ISO 179/1eA |
| Charpy Impact Strength, notched (-20 °C) | 5 kJ/m² | ISO 179/1eA |
Pre-insulated pipe
We manufacture Pre-insulated pipes with multiple thicknesses and diamaters to optimize energy consumption, preventing future insullation installation costs and meeting the energy regulations.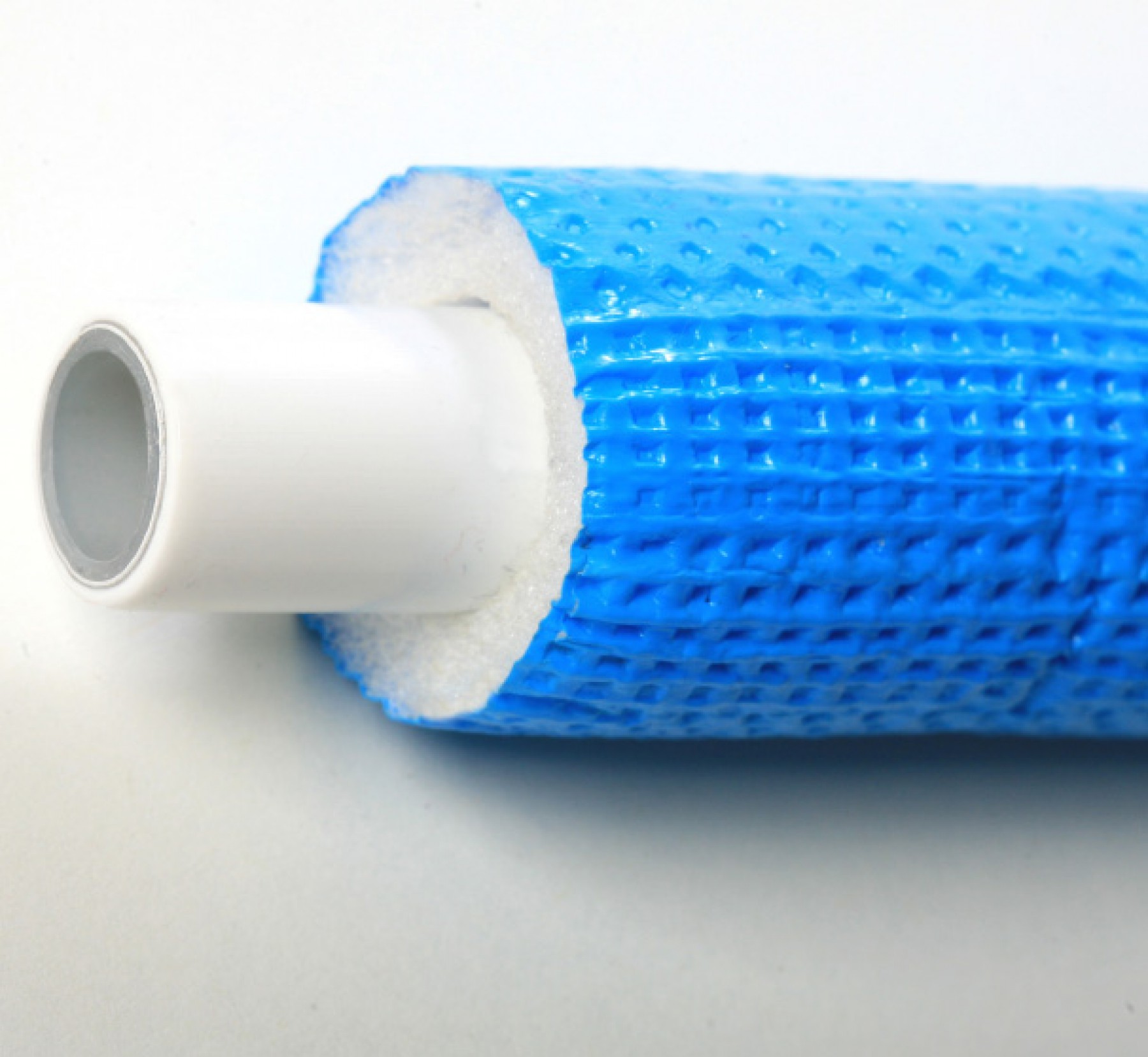 Specially designed for
PE-Xa pipe.
PERT-AI-PERT pipe
Corrugated pipe in pipe
New products
Fittings
Having our own Fittings system we offer the most complete solution for Sanitary water and Heating plumbing installations.
Pe-rt
We also manufacture PE-RT pipes (Polyethylene of Raised Temperature resistance) with excellent long-term hydrostatic strength and flexibility in order to provide the most extense product range